Awareness Heals
Cultivate awareness in yourself first so that you can facilitate an experience of transformation for your students.
Yoga Teacher Training – Destination Within
Module 1, 100 hours – May 19-29th, 2014 $200 Deposit + $900 + tax, Tuition = $1100 + tax total
Module 2, 100 hours – November 9th-20th, 2014 $200 Deposit +  $900 + tax, Tuition = $1100 + tax total
Both modules are required for your 200 hour Yoga Alliance Registration.
Are you interested in:
deepening your knowledge of yoga?
Improving your understanding
solidifying your practice?
Would you like to teach yoga?
Deposit of $200 required upon application. Deposit is NON-REFUNDABLE.
Space is limited for this intimate retreat-like teacher training, apply now.
You can view a list of suggested books here: Amazon Book List - Please note this list will be updated by December with more accuracy for our curriculum.
What makes this training different?
There are so many yoga teacher trainings available now, it's good to check the background and references of any yoga teacher training you are thinking of attending. What I look for in a yoga teacher training is an experienced teacher with whom I really connect — someone from whom I know I can learn.
Shiva Reinhardt has been teaching yoga since 2001, and studying yoga since 1998. She is an E-RYT with thousands of hours of teaching experience. She is also always first a student. She has been studying over the years in person with Ana Forrest where she received her 200 hour Certification, Shiva Rea where she is currently working on her 300 hour Certification, and Dr. Vasant Lad where she studied Ayurveda and Panchakarma. When she cannot travel for training, she studies online with Dr. David Frawley (Ayurveda & Tantra), Amy Ipolitti (Business & Professionalism), Christina Sell & Sadie Nardini (Sequencing & Asana), Shiva Rea (Sequencing, Spiritual Practice, Meditation), Ina Sahaja (Sanskrit), Christopher Tompkins (Tantra, Chakras, Ancient Yogic Texts). Yoga is a study and practice that never ends and a large part of this training is simply to inspire you to love yoga enough to dedicate yourself to the lifelong study and practice of it.
This Yoga Teacher Training is registered with the Yoga Alliance. This registration is a voluntary process of submitting our curriculum to pass their minimum 
standards and while it does not ensure the teacher training is excellent, is does ensure the teacher training covers certain topics and is taught by a teacher with a minimum level of experience (E-RYT200). We have voluntarily applied for the designation of Registered Yoga School (RYS) and received it. This allows those who graduate from our program to apply for the designation of Registered Yoga Teacher (RYT200) which is the gold standard in the yoga industry and will be quite valuable when you are looking for a job teaching yoga (especially in a competitive marketplace) as it is recognized nationally and internationally.
While this training meets these minimum requirements and we have jumped through the hoops set forth in order to have these designations, the training never becomes a dry, or rote experience. Shiva honors the living pulse of yoga in every breath, every transition, every asana, every moment of life. Yoga is not asana. Yoga is a practice in the mind and body of coming to peace with everything just as it is, of cultivating freedom in every cell, of unifying all the disparate threads of the mind together into harmony. Asanas are useful in this process.
Curriculum
Presence
Awakening awareness inside
Teaching as a path to learning
Meditation in Asana
Yoga class as ceremony
Group consciousness
Use of music to create sacred space
Energetic Alignment
Anatomical Alignment
8 limbs of Yoga
Seated Meditation
Pranayama
Ayurveda
"No one can say exactly what makes a yoga class great, but we might agree that it's a combination of skilled asana sequencing and breathwork. Clear instructions. A pace that is comfortable for a wide range of levels, and a teacher who holds the space with sincerely and integrity. This last bit is crucial. Students need to feel safe to go inside themselves and inquire, have their own experience. Teachers can facilitate this process by being honest and taking time to connect with students, not just bark cues." – from Poems for Yoga Class by Lee Gjelsvik
Yoga Teacher Training: Destination Within!

This 200 hour yoga teacher training will immerse you in the study and practice of yoga as well as give you the tools to lead others into the experience of yoga.
WHAT IS YOGA?
Yoga means "to join" or "unity."

"to tie the strands of the mind together"

"to attain what was previously unattainable"

"acting in such a way that all of our attention is directed towards the activity in which we are engaged"
WHAT DOES IT MEAN TO TEACH YOGA?
Teaching is not about saying spiritually inspirational or profound things in your classes. It's not about appearing smart or yogi-like. It's not even about leading your students through a well balanced physical practice, although if you're a good teacher, all of those things will probably happen in your classes. Teaching yoga is about creating a sacred space in your classroom and in your heart in order to be able to facilitate the experience of "yoga" in your students. While ultimately this experience of yoga is unitive consciousness or dharana "meditative awareness," for beginning students it may simply mean being aware of their body and breath while they practice asana, or yoga poses.
Teaching yoga also means being aware of your body and your students' bodies in the most detailed way possible — first and foremost to keep them safe, and secondly to help them progress in the poses. In today's modern world many people come to yoga to get a workout or to heal their body and these are good reasons to practice yoga. AND as yoga teachers we want to always be ready for that moment when awareness dawns and use guiding language (or know enough to leave them alone) to always hint that our self is not a mind, a body, and a heart, all separate. We are a mind-body-heart, a being from which you cannot separate each part.
As a teacher, always know that when you are helping a student get into a deeper backbend and open their heart, there is always an emotional/spiritual correlate happening at the same time.
You can view a list of suggested and required books here: Amazon Book List
What you will practice:
Sadhana (spiritual practice)

A vigorous and well-rounded, meditative yoga class daily

*Plus unlimited yoga at our studio for the duration of the program*

Pranayama to unite body and breath

Restorative yoga to invite peace

Meditation daily to tone the mind

Teaching and verbal skills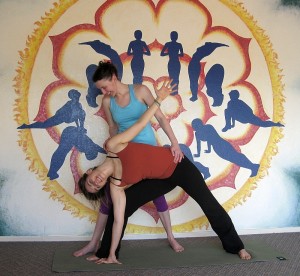 What you will learn & study:
How to teach a well-rounded, meditative yet vigorous yoga class

Flowing vinyasa style

long-holds style

Introduction to  how to teach beginners and other special populations through kramas (stages)

How to sequence for safety and progress

How to design a class theme

Yoga class as ceremony

How to create sacred space

How to integrate spirituality & profound thoughts without sounding cheesy

Find your authentic voice and speak with it

How to develop and sustain a home practice

8 limbs of yoga

History of yoga

Yoga Sutras

Anatomy & Physiology of the physical body

Energetic anatomy & chakras

Business & marketing for yoga
Interactive Facebook Group!
Get exclusive access to our private Facebook group where you can interact with your fellow students and teachers between modules. Ask questions, share your experience, get support and build community

What you will need for the first module:
Paper and writing instrument
audio recorder (optional for the first module but will be required later in the class)
1″ or bigger 3 ring binder
divider tabs for binder
Facebook account for interaction and discussion between modules